The SPEED consortium is inviting you to a conference for smart port innovators and stakeholders.
Today is the day!
TomorrowPorts 2022 is now live. Don't miss it!
Don't forget to create or link your Conversation Starter profile, since that's where all the networking, streaming and interacting will take place. Go to the live content section.
We hope you enjoy all the pitches, panel sessions and keynotes. Also remember to interact in one-on-one meetings with interesting profiles and to visit our booths.
Our best regards and see you @TomorrowPorts 2022!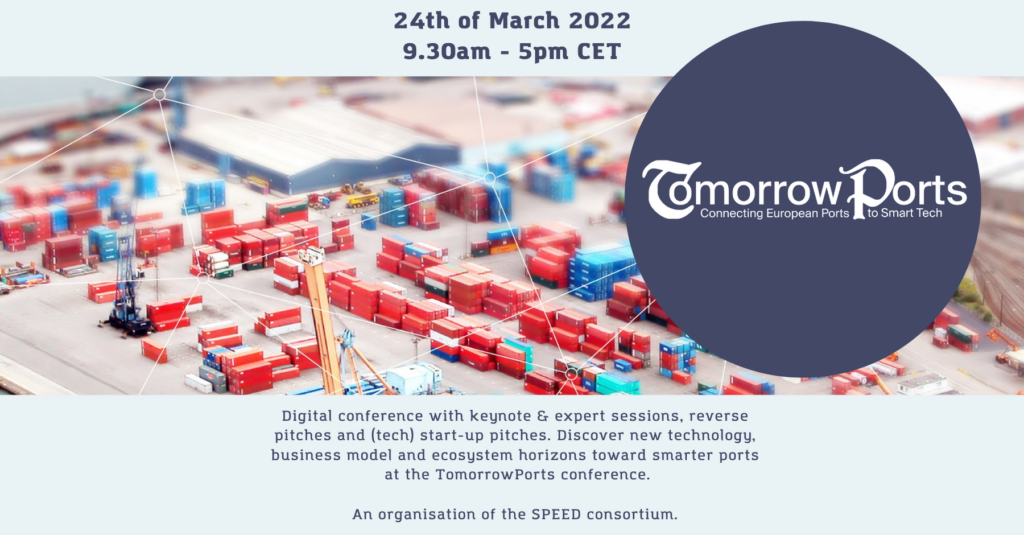 Are you a port user eager to discover which smart port applications can make your life easier, and how to apply them? Are you a tech innovator aiming to convince port users of the potential of your technology? Are you a student looking for an innovative employer?
Then TomorrowPorts is the place to be for you:
Discover new technology, business model and ecosystem horizons toward smarter ports at the TomorrowPorts conference.
Learn from use cases from smart port pioneers showing how their application of Port 4.0 technologies improved their operational efficiency, cybersecurity, energy and environmental performance, or synchromodality.
Get inspired by state-of-the-art smart port technologies that deliver business results.
Find tech talent to fuel the digital transformation of your port or logistics business in speed-dating sessions.
Show the innovation power of your port business by participating in the TomorrowPorts innovation award.
Get in touch with the latest thinking and frameworks to build and realize your port's digital roadmap.
Dual keynote
9:30 CET Welcoming words by the organisation
9:45 CET Dual Keynote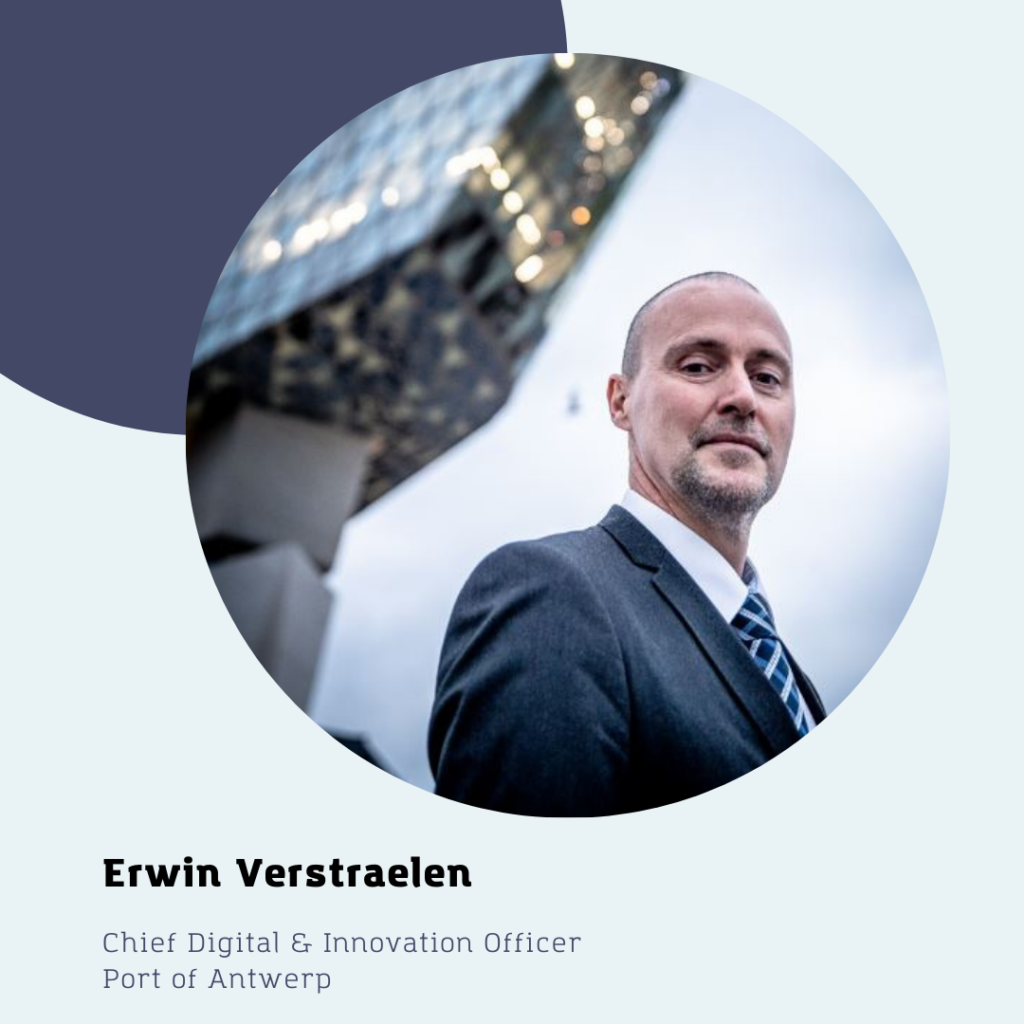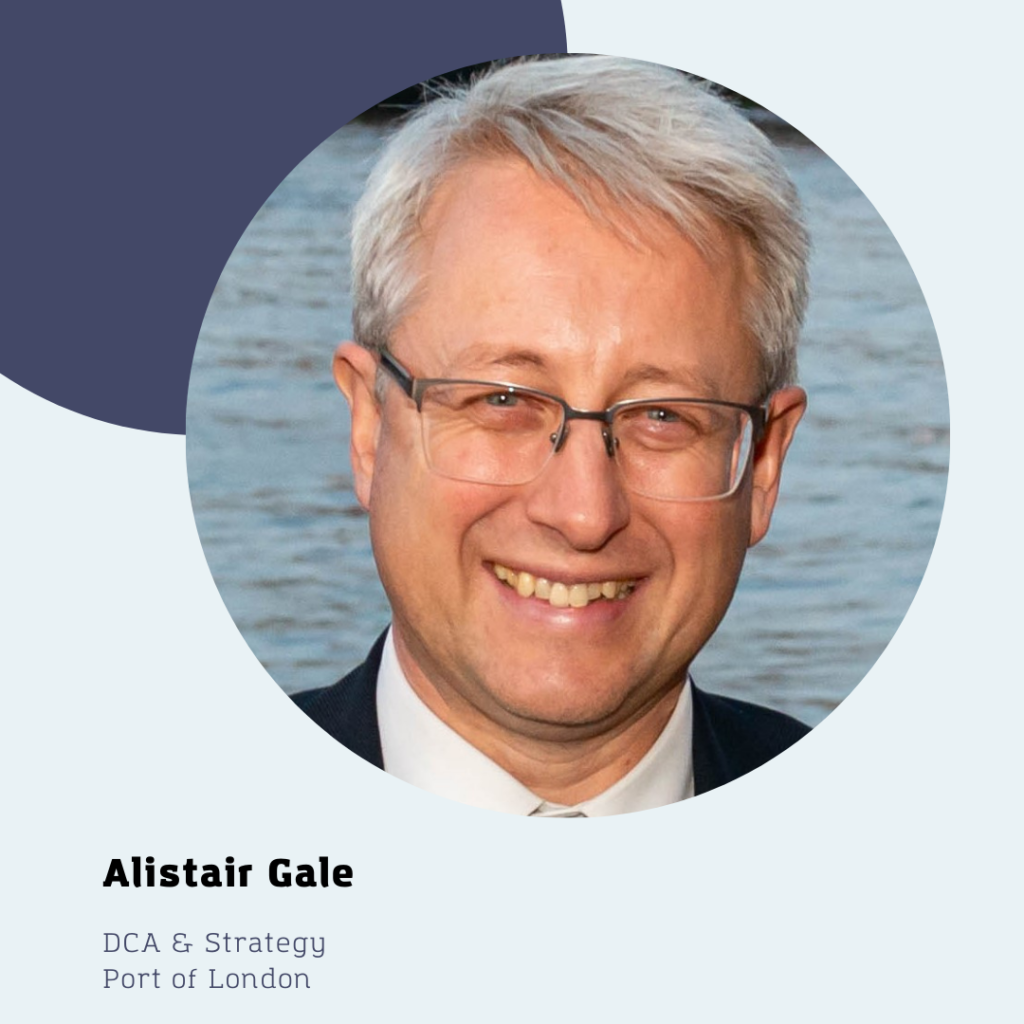 Parallel sessions
Join us on March 24th for a hybrid gathering of innovation-minded smart port business, technology and policy stakeholders from across Europe. We've got 3 parallel tracks in store for you, with 3 experienced track chairs managing them for you.
TRACK 1: SMART TALENT FOR SMART PORTS
Track chair: Arjan Haring – JADS – AI for Social Good
Digital track program:
Reverse pitches from 10:30 – 12:05 CET
Tjomme Dooper – Head of Partnerships & Growth at Fruitpunch AI
Camiel Verschoor – CEO at Birds.ai
Tech pitches from 13:30 to 15:00 CET
Biodiversity & AI – Jorrit Venema – founder VAART software
Roos Janssen – Product Development Manager – BrainCreators
Data to help Clean up the Ocean – Colin van Lieshout
Expert panel session from 15:15 to 16:45 CET
Tom van Woensel – Director of the European Supply Chain Forum
Hugo Koopmans – CTO Sensing Clues
Lorna Wagner – Programme Manager (Careers and Outreach) Maritime UK
Anneleen van Boxstael – Assistant Professor Data Entrepreneurship – JADS

TRACK 2: PORTS AS SYNCHROMODAL VALUE-ADDED LOGISTICS HUBS
Track chair: Alex Van Breedam – CEO @ Tri-Vizor & Faculty Global Supply Chain Management @ Antwerp Management School
In track 2: Ports as synchromodal value-added logistics hubs you can opt for a hybrid access ticket, giving you access to the live event, a chance to physically interact with the speakers after each session and join us in a networking moment at the end of the event.
Hybrid track program:
Expert panel session from 10:30 to 12:05 CET
Bart Vannieuwenhuyse (Tri-Vizor)
Chris Coeck (Port of Antwerp)
Thierry Vanelslander (University of Antwerp)
Johan Gemels (Van Moer Logistics)
Reverse pitches from 13:30 – 15:00 CET
Antoon Van Coillie (Zulu associates)
Tech pitches from 15:15 to 16:45 CET
Yannick Spillemaeckers (Hakka): From truck sharing to intermodal corridor integration
Jan Goderis (SeaFar): Autonomous shipping as enabler of synchromodal chains
TRACK 3: SUSTAINABLE & CONNECTED PORTS
Track chair: Sharon Jones – Economic Development Officer BCP Council (Marine and Maritime Industries)
Digital track program:
Reverse pitches from 10:30 – 12:05 CET
Bev MacKenzie – London Representative at the International Maritime Organisation for BIMCO
Biofouling presents a significant challenge for a ship- from the impact on fuel efficiency and associated greenhouse gas emissions to the protection of the marine environment from potentially invasive species. Whilst a number of technologies and operational measures exist to manage ships biofouling the assessment of such fouling, and the coverage of that fouling, is fraught with difficulties – is there an opportunity to harness the power AI to help?

Katie Young – Business and Performance Manager for Sustainability, RNLI
The RNLI has committed to eliminating or reducing our negative impacts on the environment and to becoming a low-carbon, zero-waste-to-landfill and climate-resilient organisation in the future. We recognise that we must all play our part, no matter how big or small, to ensure a more sustainable future for all. How can we achieve this so that, together, we can save lives for generations to come?
Tech pitches from 13:30 to 15:00 CET
JET Engineering Systems Solutions Ltd – James Thomas, CEO and Vicky Naylor, Bids and Project Manager
5G at Sea, enabling smarter, safer and more sustainable port operations

Grafmarine – Nigel Marc Roberts, Business Development and Martin Leigh, CTO
Developing innovative renewable energy generation and power management solutions for the marine and other associated markets through their NanoDeck system.

XYZT.ai – Bart Adams, Founder and CTO
A visual analytics platform that helps you see and understand your location data; location analytics at scale.
Expert panel session from 15:15 to 16:45 CET: Ports as Sustainable and Connected Hubs
Dr Richard Pemberton – Mechanical and Marine Engineering Design, The University of Plymouth
Kevin Martin – Founder, The Smart Ports Alliance
Sandie Wilson – Environment & Planning Manager, Portland Port, UK
Alex Gluhak – Founder and CEO, Urban Data Collective
The conference will be hosted on Conversation Starter.
Hope to see you there!
The SPEED team